Accessing the page

To access the "System maintenance" page, you should click on the "System" menu and select "System maintenance."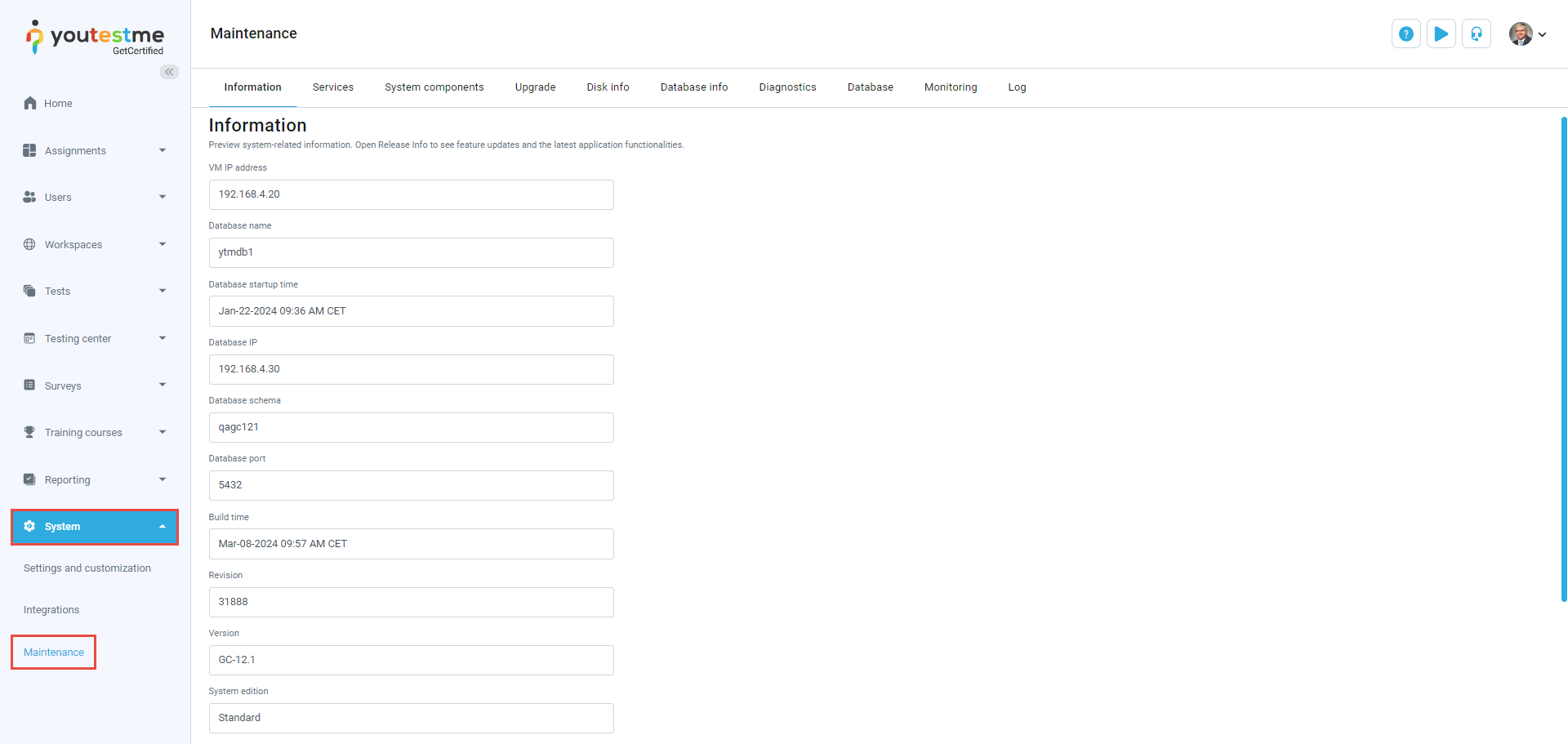 Service

Applications and services connected to the system are listed here. You can export the list of services in XLS, PDF, CSV, or XML file.

Ping Service

When you want to test the reachability of a host on an Internet Protocol (IP) network, you can click on the "Ping service" icon in the "Actions" column:
If the status is unavailable you will get the right message "Service failed to respond".
If the status is available you will get the right message "Service responded".
Start or stop system wide jobs
System jobs are created and used by the operating system to control system resources and process other system wide requests. In the "Actions" column, you can:
Start system wide jobs by clicking on the icon.
Stop system wide jobs by clicking on the the icon.
Upgrade

Browse the upgrade package and click the "Upload patch" button. Upload patch file as the archive. Do not extract it. The upgrade will not work if the file format is different from '.zip.'

IMPORTANT: We strongly suggest that you perform a snapshot and export of the YouTestMe Virtual Machine before applying any changes and verify that the virtual machine can be restored from the created export file.
Disk info

Basic information of the memory usage of the partition on the Linux virtual machine is displayed here.

System diagnostics

By clicking the "Run system diagnostic" button, a script will be executed on the system. This script aims to gather information about the system, and it takes a few minutes to finish its work. After that, the script's log file will download on your machine, and you can send it to us so that we can perform a detailed analysis.

IMPORTANT: Do not close this browser tab while the script is being executed. If you close it, the script will not download. You can continue your work in the application in a new tab.

Monitoring

By clicking on the "Performance Monitoring" button, a new tab with a monitoring tool will be opened. This tool measures and calculates statistics on an application's actual operation depending on the usage of the application by users. It is mainly based on statistics of requests and evolution charts. One of the most important statistics you can measure under "Performance Monitoring" is the number of active HTTP sessions during a predefined period. You can preview the statistics report containing the number of concurrent users.